Hello guys! Welcome to the American Idol Tour 2008 Livejournal Community!
Just a few reminders before we get this party started:
1) RULES:
~ No intense bashing of the Idols allowed! :) May there be peace in here especially since this is a general AI community. Please make sure that you follow this very important rule as it may lead to member quarrels which leads me to the next rule.
~ Be kind to the other members of the community. Let us please respect each other's opinions. If there are any issues that you find hard to handle, please take it to your own personal journals. LJ has a messaging service which you can VERY MUCH use and it can be found
HERE
.
2)
TAGS and POSTS:
~ Please tag ALL of your entries properly for easy browsing and organization. :) List of tags can be found in the
Community Tag Page
.
~ Before posting news/updates/spoilers, please make sure that they have not been posted yet to avoid duplication.
~ Spoilers (regarding the performances or what not) should be posted under a cut. Clueless on how to do that? Here is the
LJ Cut FAQ Page
.
~ When posting large photos, please resize them to fit the screen properly or better yet, place them under a cut.
3)
POSTS THAT YOU MIGHT WANT TO CHECK OUT:

~ Looking for new inter-fanbase friends? Here is
The Friending Meme
.
~ Still clueless about the tour schedule? Here is the
AI7 Tour Schedule
.
~ Wanna meet up with fellow fans in a certain venue? Here is the
Meet-up Post
with a specific comment thread for each venue.
Feel free to contact your mods for any question/comment/suggestion/marriage proposal whatsoever. :)
Have fun and let's get this party started! *confetti*


Sept 13, 2008. BOK Center Tulsa Oklahoma. American Idols Live.

Floor seats. Section F5, Row A, seats 4 & 5. This is the MAVID side of the stage, second section on the floor. I have the actual hard copy of the tickets.

I bought these on eBay and would like to recover some of the money since we've upgraded our seats. AGAIN. If you're interested, please comment or drop me a PM.

Also for anyone planning the whole crazy Tulsa concert, KC Chiefs game, we have two seats for the football game to sell too.
I figured I would post this here before I put them up on a ticket site or eBay.
Section 13, Row G, Seats 1 and 2
(
Seating Chart Behind the Cut
Collapse
)
I'm just asking face value for them -- $68.50 a piece - - and I don't have to sell them together. I'll be at the venue early to meet up if anyone wants these.
If you're interested, you can email me at: bucketsofcrazy@tmail.com or text me at 903-422-5765.
Hey guys, does anyone need tickets (or know someone who does) for the show tonight in Dallas at the AAC? I have:


Kansas City - 08.30.08
Floor 1, Row 19, Seats 11 & 12

Tulsa - 09.13.08
Floor 4, Row N

Selling them for exactly what I bought them for. Email me at 1horse@optonline.net if you're interested. I'd really like to see them go to fans.
Hey guys! I have two sets of 2 tickets that I'm not using. Not sure if anyone still needs or is looking for tickets, but I'd thought I'd offer.
hey guys, is anyone selling tickets for tulsa? i figured i'd ask here before i buy them from ticketmaster :]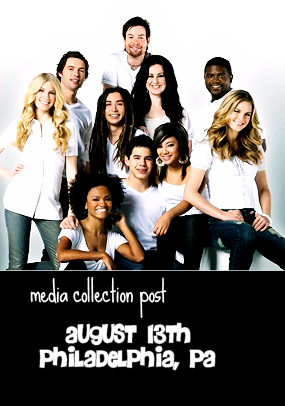 Have fun folks! :]
really get to meet them? I really want to, but I'm worried I'll miss out! This probably sounds ridiculous, but I need some hope and encouragement!

Thank-you,
~Brooke
Hey, I'm going to the Philly show, and I plan on meeting the gang. I won't be able to get there until about 4:30-5:00, so I'm guessing I won't see the Idols before the show. I'm hoping to meet them afterward, and I'm wondering about how long after the show do they come out? And will I
Current Mood:

curious
Alrighty, last one. Have fun at the shows, everyone!